By Diptimayee parida | bangalore August 7, 2017
Mahalakshmi is worshiped as goddess of wealth and good fortune all over India. According to Hindu mythology, goddess Lakshmi emerged from the ocean during samudra manthan and then selected lord Vishnu as her groom. She is worshiped daily by the Hindu women as the symbol of good luck for all families. In the month of October Lakshmi puja is celebrated on the full moon light of Kojagari purnima throughout India.
Worshiping mother goddess is an Indian tradition since ancient times. Lakshmi is also known as "Mata". As a female counterpart of lord Vishnu, she is also considered as "Shri", the female energy of the Divine. She protects her devotees from any financial problems and bad luck.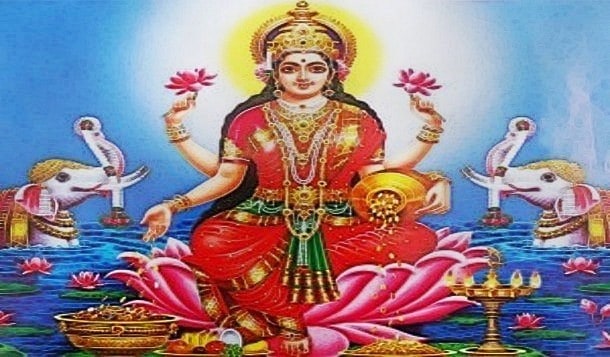 Mata Lakshmi is always seen in a beautiful red saree and has golden border on it. She has a owl as her vahana. She is always calm and loveable by her expression. She is always sitting on a lotus which symbolizes the fertile growth of organic life. She has four hands which represent the Dharma, Artha. Kama and Moksha. There are two elephants standing and spraying water from their trunk which symbolizes the devotion that doesn't stop ever are true dharma, wisdom. Goddess lakshmi is seen by two of the major forms where she is massaging the lord Vishnu's feet and the other form which is widely worshiped by devotees.

Mata Lakshmi can change the life of a person for tter if he accepts her empowerment. If anyone wants her to be a part of him, to protect, help, empower, and bless that person. In every hind owned business or company, you will always find an image of Lakshmi or a small shrine to her near the cash register. She is prayed everyday by the owner to increase profit and bring economic prosperity. All Hindus believed that she helps them in this way.