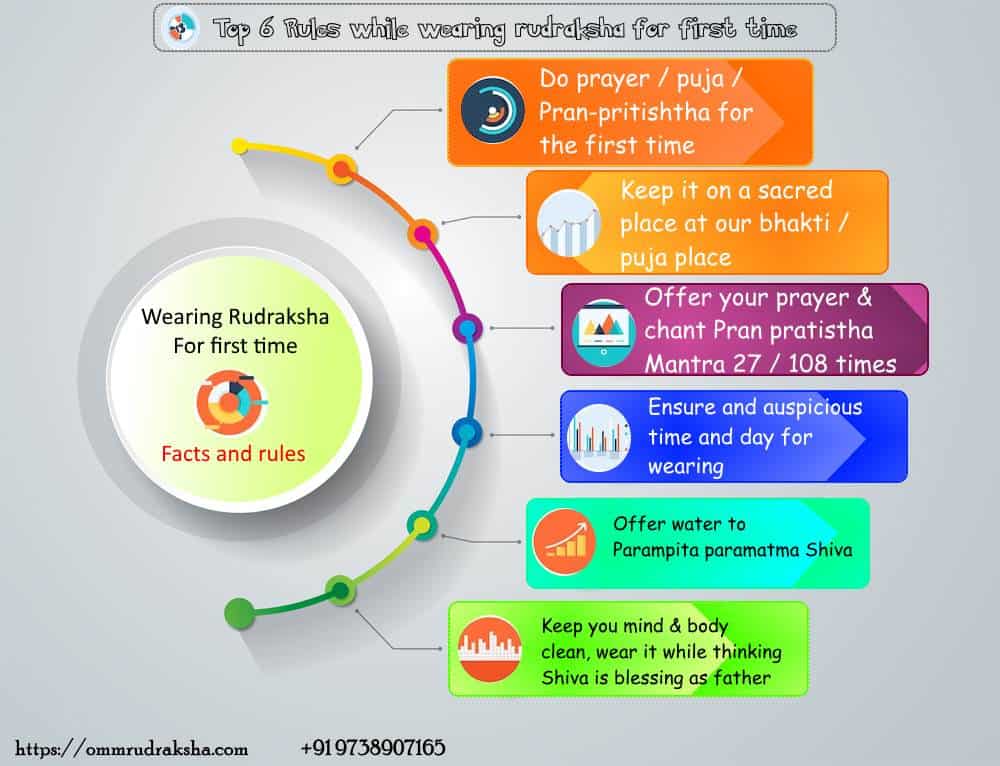 Rules to wear rudraksha energized
We all have generally doubts on rules while wearing rudraksha. Or to say "How to wear rudraksha".
Let us know the doe's and don't while wearing it. How to wear, when to wear. This is important to know while wearing it for the first time.
For maximum effect, when the beads are worn for the first time, generally doing prayer / puja / Pran-pritishtha for the first time connection.
You may bath with rudraksha called rudraksha snaan.
Most of the time the beads are worn around the neck. Sometimes on wrist as jewelry.
We first keep it on a sacred place at our bhakti/puja place. Better to keep on a clean place or on piece of cloth
Stimulate/Pran Prathistha rudraksh from a brahmin pandit in a Shiv sanctuary and then wear ur invigorated beads for first time following its Pran Prathistha puja.
Before you wear your invigorated mala for first time ensure u pursue the vidhi of saying the mantras as set down in sacred texts.
After u return from going to partaking in somebody's demise burial service parade and/or visiting the graveyard or incineration ground, at that point first thing u are supposed to do is clean up. We can clean the mala and wear it.
Both men and women of caste and religion can use wear and use it. Some keep a practice of chating "Om Namah Shivaya" everytime they are going to remove and wear it again
Ensure there is no rahu kaal and yamghat kaal at time of purchasing another mukhi and during the time of doing its Pran Prathistha puja and likewise at the time of wearing invigorated mala for the first time. do panchag.
Sometimes the mala can carry beads and a combination of all gems. One can also wear a pendant of a specific combination with pearl
( some suggest this ) On the off chance that at all unintentionally u have contacted bead with filthy hands at that point pour some great measure of ganga jal on rudraksh.
Clean your mala / beads regularly after an interval of 15 days. Dip in warm water if it becomes too oiled. Remove and just wipe with a soft cloth. Do not rub strongly or use wire brushes. Apply some good oil by using cotton if required.
Navratri, shivaratri, Mahashivratri and eclispe are favorable occasions to dharan, but any auspicious day is good to start wearing.
Some prefer wearing it in gold or silver metal. Best is wearing it in thread.
If you are not going to wear it for a long time for some reason, keep it separate in dry place only.
While Vedic rituals, chanting mantras, etc. Yajna we should wear to get more fruit.
Get ur mala re empowered through its Pran Prathistha puja consistently at maha shivaratri or shivratri.
People are on the deathbed can wear rudraksha around neck or an arm in order to achieve spiritual salvation and good fate in the next birth. ( only belief )
Mala for wearing around the neck may be composed of 108 beads or 54 japa mala or can be as small as 27 beads. Kantha mala should be of 32+1 beads.
Here we have listed the belifs that people may follow. It is a belif and there is no full proof, wear with your devotion and belief, which will have more power
By Rashmita Nayak Email:rashmita@ommrudraksha.com