Genuine Rudraksha
We always find a natural hole that Rudraksha have in its center. The outer face is also called as mukhi. The number of faces are counted by the number of lines running though. The number of faces represent the seeds that are inside the beads. Sometimes we confuse with the size and shape of the beads. It should always be noted that the natural bead can have different colors and sizes which is dependent on natural things. We only need to care about the genuine of the bead. Also we need to check if there are insects eaten portions.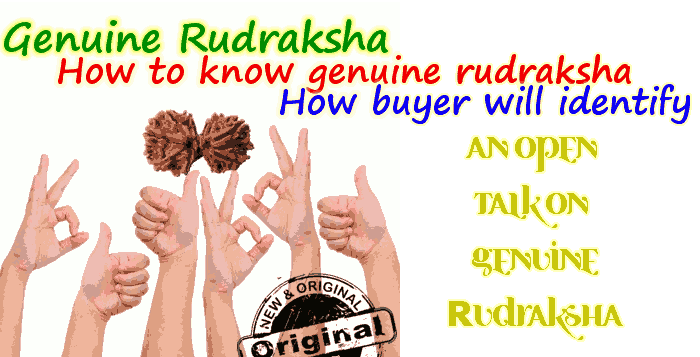 People should observe the beads faces carefully and in full light. See it to get a feeling that it should be natural. Generally the cheap rudraksha beads are not faked that much. 3 mukhi rudraksha to 7 mukhi rudraksha are seen not being made fake. But the color and size and shape of these beads definitely differ based on the origin which may not be know to the buyer properly. But we see fakes in case of higher and more priced beads. We see some people making artificial carvings which looks so natural and authentic but are fake. We have seen many cases where the gauri shankar rudraksha bead and ek mukhi gole dana beads are fake and artificially carved and made sometimes markings.
In few cases, we see that people have no understanding on rudraksha before buying and just seen collecting some totally new type of beads called as rudraksha. Buyers can see all types of rudraksha beads on our website for verification as genuine rudraksha.
We see that many buyers have slightly different understanding on the way the rudraksha to be tested. Few buyers think that all rudraksha should sink and only fakes can float. This concept and thinking is totally wrong. Genuine rudraksha can float. Many cases the fakes always sink and the genuine ripe/dry fruit may float. There are many rudraksha beads which are genuine, powerful but still they float.
We always recommend buyers to check the linings and the faces with magnifying glass. All sellers of rudraksha beads will have one magnifying glass for sure. Please ask for it and test the linings with it for your own faith.
Buyers can soak the bead in Luke warm water to observe that the lines which are artificially made are showing off.
Always better to buy from the genuine and experienced people. Always their understanding on different type and sizes of beads will help the buyer.
By Himanshu Nayak Email:himanshu@ommrudraksha.com