By Smruti Swagat Ray Mohapatra | Khandapada August 18, 2017
For the establishment of Dharma and destruction of evil spirits on earth, Lord Vishnu has been taking several incarnations. According to the Hindu mythology, "Shree Ram" is the seventh incarnation of Lord Vishnu. The whole life of Shree Ram is a great example of humanity. Though Shree Ram was the incarnation of Lord Vishnu, he did not use his supernatural powers anywhere. He spent his whole life like a common person and a caring king.
Shree Ram was born in the royal dynasty of Ayodhya. He was the son of king "Dasharatha" and queen "Koushalya". He was very dearer to Dasharatha as he was the most humble and obedient prince of Ayodhya. He had three cousins named as Laxmana, Bharata and Shatrughna. He spent his childhood in Ayodhya with full of joy and completed his education under the guidance of his teacher sage "Vashistha". He married "Sita" after the completion of his education. The crucial challenging phase of his life started after the announcement of his father to make him the king of Ayodhya. Being influenced by a jealousy, his half mother "Kaikei" demanded fourteen years of exile for Shree Ram from Dasharatha as Dasharatha had promised to fulfill a wish of Kaikei in the past.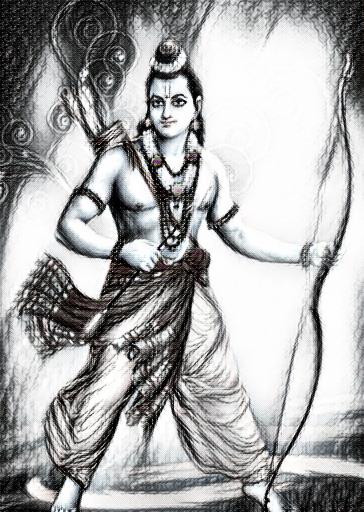 In order to keep the promise of his father, Shree Ram decided to go for exile without any hesitation. Laxmana and Sita joined him and left Ayodhya for exile. During exile Shree Ram and Laxmana killed many demons that were hampering the holy sages. Shree Ram placed a great example of devotion by accepting the tasted berries of the tribal lady "Shabari". With this example, he in true devotion, faults are not considered. Shree Ram was very loyal to his wife Sita. So "Surpanakha" (the sister of Ravana) could not seduce him. Shree Ram refused the marriage proposal of Surpanakha and in anger when demon king "Ravana" kidnapped "Sita", then another crucial phase of the life of Shree Ram began. In order to find Sita, he moved towards south along with Laxmana. He met Hanuman, Sugriba and helped Sugriba as a true friend. Hanuman helped Shree Ram in every possible ways to find Maa Sita. After Shree Hanuman discovered Maa Sita in Lanka (now Sri Lanka), the huge Indian Ocean was the great barrier for the monkey army Shree Ram to reach Lanka. The name "Ram" was so powerful that, the stones on which this name was written, started floating on water and by virtue of which the great "Ramasetu" was made.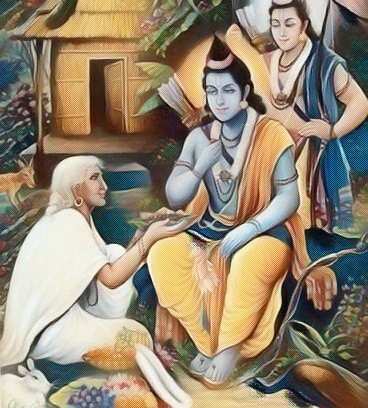 After the monkey army reached Lanka, Shree Ram sent Hanuman as a messenger of peace to Ravana. But he tried to attack Hanuman with fire on his tail. Shree Hanuman destroyed almost all the Lanka with fire except the royal palace of Ravana. Then a terrific war began between Shree Ram and Ravana. All the sons and brothers of Ravana were killed in the war. Only "Bibhishana" (the younger brother of Ravana), being by the side of Dharma was safe. Bibhishana had surrendered at Shree Ram and expressed his devotion towards Lord Vishnu. Shree Ram rescued Maa Sita after killing Ravana and crowned Bibhishana as the king of Lanka.
When Shree Ram returned to Ayodhya after fourteen years of exile, the citizen of Ayodhya started doubting on the character of Maa Sita as she was in the prison of demon king Ravana. So, Shree Ram had to order his beloved wife to undergo a fire test in order to prove her purity and Maa Sita succeeded in the test. Then Shree Ram was crowned as the king of Ayodhya. He was very caring and affectionate towards the citizen. His kingdom was otherwise known as "Ramarajya" for his unconditional love towards each and every individual.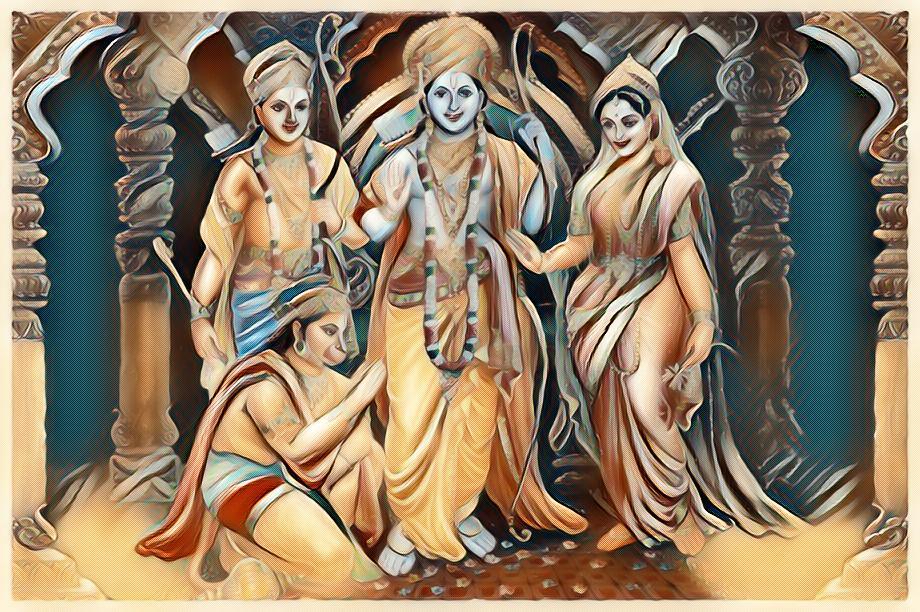 Hence, Shree Ram is worshiped by the majority devotees of Hindu traditional culture. It is believed that, Shree Hanuman (being immortal) is present physically in a secret identity, wherever the "Ramayana" is discussed. And "Shree Ram" is worshiped as the ideal god of humanity everywhere with full devotion.