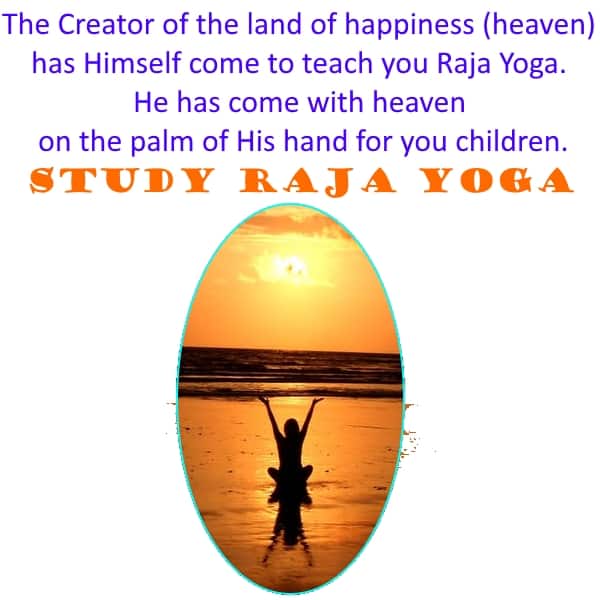 The Creator of the land of happiness (heaven) has Himself come to teach you Raja Yoga. He has come with heaven on the palm of His hand for your children. Therefore, study Raja Yoga.
सुख की दुनिया (स्वर्ग) का रचयिता स्वयं राजयोग सिखलाने आया हुआ है। वो बच्चों के लिए हथेली पर बहिश्त लेकर आया है इसलिए राजयोग सीखो।
How do I do yoga and why do I will do yoga. Yoga means Union. Yoga brings you (the soul I) closer to Paramatma (the father of the soul). It is a practice. Yoga practice can be done during our regular day to day activities. It can be mixed with the daily routine. Raja Yoga means the Yoga which will make you Raja (and not meaning like the Raja of the yogas).
Raja yoga meditation is a form of meditation that does does not require mantras or rituals. One can practive anywhere at any time. Generally it is practiced with open eyes. When we meditate, we keep a state of being in that place, just beyond consciousness. A spiritual empowerment brings power to take positive decissions. It brings calmness which helps to respond to situations. We live in harmony and make happier.
Source: The Brahma Kumaris World Spiritual University