Right handed Conch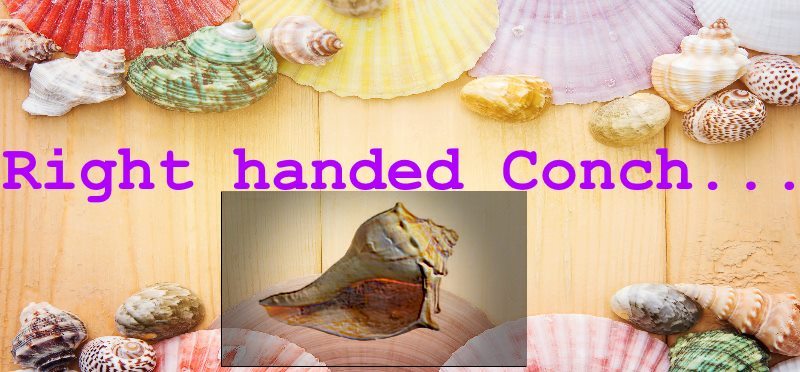 In Hindu rituals shankh is blown for the announcement of a prayer begins and the sound usher freshness and new hope. Ankh literally means pacifying the inauspicious. The origin of conch shell took place during the samudra manthan. It is believed that during samudra manthan the first conch shell appeared and followed by goddess Lakshmi. People usually used shankh in pujas. Water collected in shankh is usually offered to the sun while worshiping sun.
There are two types of conch shell is available. Left handed conch shell and right-handed conch shell. Valampuri shankh or right handed shankh is considered auspicious. The right-handed conch shell is very rarely found. This is the shell of a large sea snail which found in Indian ocean, between Myanmar all the way to Sri Lanka. Valampuri with five folds in its cavity is known as panchjanya and very rarely found. Completely snow-white conch shells are very expensive and rare. Giant Valampuri are more than 5 kgs.
The Lakshmi conch is very important for worshiping maa Lakshmi. By worshiping this conch people gets blessings, prosperity and wealth. It is very wonderful in vastu purposes getting high positive energies. Keeping this shankh in office will bring success in the business. By worshiping it at home brings a peaceful family atmosphere. It is believed that it solves all problems related money and wealth. Right handed conch shell has a closed mouth, so it is not emitting any sound but only worshipped.
As it is very rare, it is very difficult to buy the original right-handed conch shell. There are many fake dakshinavarti shankh are available in market. Many shankh dealers try to cover the defects in shankh with cement like powder and sell it. These types should be avoided. Natural dakshinavarti shankh can be purchased by divine temples.