Ratha Yatra
Rathayatra is a festival of friendship, equality, unity celebrated at bada danda.
Rathayatra is a car festival associated with lord Jagannatha
Rathayatra or car festival is celebrated in the honour of Lord shree Jagannatha who is believed to be incarnation of Lord Vishnu or Shree Krisha.Puri rathayatra is one of the world famous and largest celebratred festival in the world. This is a spectacular chariot festival, celebrated in the month of Ashard suklap pakshya dwitiya tithi ( according to hindu lunar calendar)
On the day of the festival, the lord Jagannath with his elder brother Balabhadra, sister subhadra and sudarshan are taken out of the temple in procession. They are taken our from temple in procession, to the three chariots. These chariots are made of holy wood. They are huge in structure and are pulled by millions of devotees through ropes. Devotees pull the chariot from singha dwara (the main entrance of puri temple) to gundicha temple which is nearly 2 kilo meter. It is believed that by pulling the rope of the holy chariot with pure devotion to the lord, will destroy all sins committed knowingly or unknowingly.
Only this day, when devotees who are not able to see the lord at temple, can get a chance or fortune to have his sight. This festival is a symbol or integration and equality.
By seeing the lord seated in chariot, one is freed from the cycle of birth and death. They get salvation just by the sheer sight of the Lord.
During this festival, devotees from all over the world, come to puri, with an honest desire, to help pulling the lord's chariot. The huge procession is accompanies with singing devotional songs, traditional dance, drums, tambourines, trumpets etc.
On the day of the festival, early morning, devotees take bath and prepare for festival at home by praying and offerings at home. then they head towards the temple to pull the chariots. The king of puri, comes and cleans the chariots with golden handed broom. People start to pull the chariots till gundicha temple. There devotees offer flower and chandan and scented water on the street through which the chariot passes. There the god reaches by evening and stays at the gundicha temple.
Devotees who are not getting chance to visit the festival, they can offer payer and flowers at home. They can also chant the holy name of Lord Jagannath by using 5 mukhi rudraksha mala.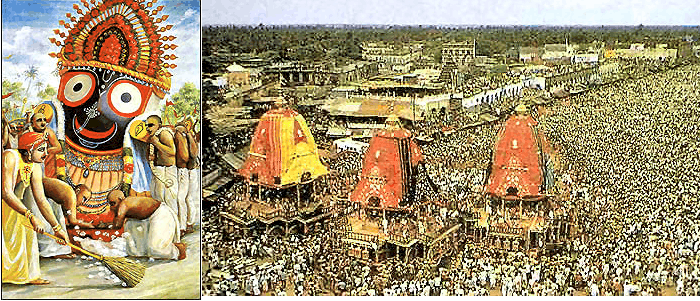 By Rashmita Nayak
Email: rashmita@ommrudraksha.com