Why all devotees of Jagannath not at Puri ?
We all know Lord Sri Jagannath is Narayana swarup(figured). He is God but all his Rituals, niti's and cultures are like us human being. As human has to go through various modes of life here Lord Jagannath goes in these modes. Do you what make us human being? One of it is illeness. Here Lord Jagannath also goes through these bodily feelings. These makes Jagarnnath("Kala Thakura" in local language of Odisha) more nearer and dearer to us. He even enjoys all the massages and services as a human body during illness. These days he stays in Anavasara Ghara( a typically closed room for lord during these 15 day long fever). The Darshan restricted desperate Devotees these days look for the early darshan of those wonderly Chakanayana(anather name of Lord Jagannath in Odia) to end these days asap at Srikhetra Dham i.e. Puri. At the end of Lord stay at Anavasara Ghar the world famous Cart Vestival of Jagannath, Balabhadra and Suvadra begins.
The renowned tale of greatest devotee Alavinda Acharya begins here to speak about the naming of four-handed Narayana Daity as "Alarnath" at Brahmagiri. Once Alavinda acharya visited Puri to have Darshan of kala Kanhu (another name of Lord Jagannath in the local language Odia). Although Jagannath Temple revolves around three major deities Jagannath, Balavadra and Suvadra but Lord Jagannath(Narayana) is allround favourite. His aspirated to see Jagannath are gravely dissapointed as Tridev (Jagannath, Balavadra and Suvadra) were resting in Anasara Ghara and were not available for public darshan. His sorrowful eyes are full of tears to see lord Jagannath. His devotee heart never wanted to return without eyeful darshan of lord Jagannath. However God has some other plans in his bag. He appeared in his dreams and told him that " These 15 days during Anavasara Ghara, i will be avilable for Darshan at Alarnath Temple located at Brahmagiri which is seven Kosa away from the west of Jagannath Temple. You will see me in the four-handed Narayan statue as your Lord Jagannath." From these days during Anavasara the visit to this holy place get over crowded with devotees of Lord Jagannath. This is easily seen in long waited quees at Alarnath Temple, Brahmagiri.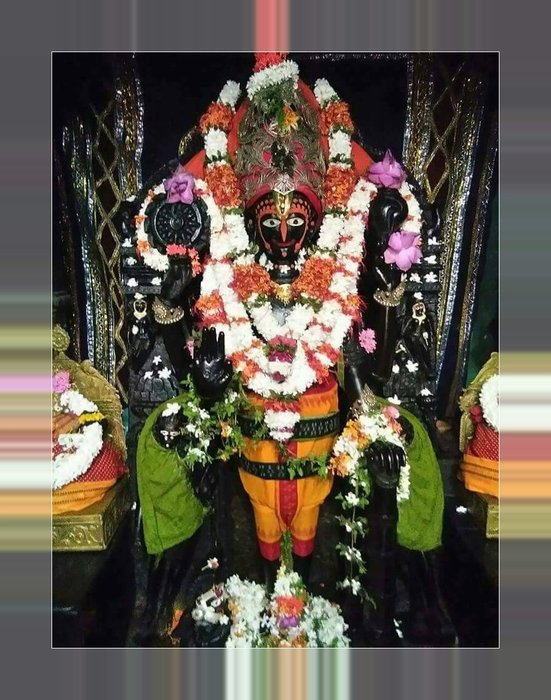 Alarnath temple not only crowned for the darshan of Lord Jagannath but also the devotees enjoy the prasada sevana here as they used to enjoy prasad at Ananda Bazar of Jagannath Temple. However when it comes to Prasad the story of "Kheer"("Rice Pudding" in English) evolves all around. Kheer is the most popular and demanded prasad at Alarnath.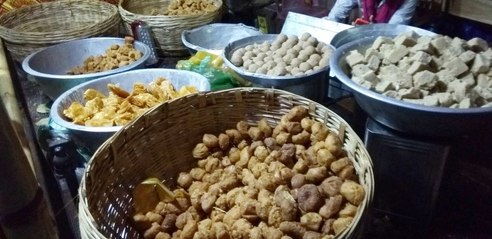 The Real Tale of a simple Boy who pleased the Lord Alarnath
After some time the families expanded in size and the terrains that the ruler had given were never again adequate for the network's sustenance generation, so they began alternating going to ask charity. One day it was the turn of a brahmana named Sri Ketana to proceed to ask. Sri Ketana was the cleric accountable for offering groceries to Lord Alarnath. Before he left he taught his young child named Madhu to make the bhoga contributions to Lord Alarnath. Madhu told his dad that he was just a little kid and did not know the mantras or methodology to offer bhoga to the Lord. Sri Ketana revealed to him that he should simply put the contributions before Alarnath Deva and implore that He acknowledge them. At that point he left.
Soon thereafter when it came time for the bhoga to be offered, Madhu's mom called and revealed to him that everything was cooked and he should offer it to the Lord. Madhu carried the plate to the raised area and put it before the god, asking, "Goodness my dear Lord, my dad has guided me to make Your contributions while he is away for alms. If you don't mind acknowledge this offering with pleasure. I am just a young man and I don't have the foggiest idea how to offer things to You in a legitimate manner." He at that point went outside to play with his companions. After twenty minutes he returned and discovered everything still on the plate. He didn't comprehend that the Lord can eat essentially by looking over the nourishment, and in this manner He leaves the offering as prasad (kindness). Rather, the kid imagined that the Lord was intended to eat everything on the plate and not desert anything. Seeing that every one of the things were similarly as they were previously, he ended up aggravated that the Lord was not reacting to his solicitation because of his freshness. He petitioned the god, "Gracious my Lord, You have not eaten the sustenance that I have brought for You. My dad will be furious with me, it would be ideal if you eat Your feast." Again he headed outside and returned following a couple of minutes. As yet finding the offering there as in the past, Madhu started to cry. "My Lord, I comprehend that You are not eating since I am not able to offer to You. I am just a young man. I don't have a clue about any mantras or techniques for love. However, it would be ideal if you acknowledge this offering." Madhu again headed outside. When he restored a couple of minutes after the fact he found that the plate was vacant. He thought, "Goodness, the Lord has eaten." With tears of bliss in his eyes, he took the now unfilled plate back to his mom.
She was amazed, "Where is the prasad?"
"Alarnath ate everything", Madhu answered.
"He ate everything?"
"Indeed." And Madhu went out to play with his companions.
There being no prasad, the family had nothing to eat that day. Madhu kept on offering bhoga to Alarnath and consistently the Lord ate everything. In this manner the family fasted. Following three days, Sri Ketana returned and approached his better half for some prasad. She answered, "There is nothing. For three days we have not eaten. Madhu says that Lord Alarnath is eating everything."
Sri Ketana called his child and in a stern voice asked him, "Where is Alarnath's prasad? What have you finished with it?"
"He ate it, father. I just offered it like you let me know."
Sri Ketana felt that Madhu was eating the sweet rice himself, or maybe offering it to a canine. Or then again out of dread of his mom he was discarding the prasad. He started rebuking the kid. In any case, Madhu stated, "No, no, father. Narayana is taking everything. I am not eating it."
The dad at that point lost control, "Narayana is taking everything? Jabber! He is made out of stone. By what method can a stone god eat? You demonstrate it to me. You go again and make another excuse. I will cover up on the special raised area and watch."
The straightforward kid again went before Alarnath and supplicated, "My dear Lord, if it's not too much trouble acknowledge this offering. My dad has returned and is furious with me. He feels that You are not eating." After the kid left, Lord Alarnath, who is known as bhava-grahi janardana – He who acknowledges the affection for His aficionados, came to down and grabbed a pot of sweet rice. All of a sudden Sri Ketana hopped out from behind a column and got the Lord's arm. The hot sweet rice flew up in air and fall down on the Lord's body in a few spots. Sri Ketana stated, "Stop! What's going on with You? You are a divinity. You can't eat. Who at any point knew about a divinity eating? By what means will there be any prasadam for us? By what method will we endure?"
In spite of the fact that he was a cleric for Lord Alarnath Deva, the brahmana Sri Ketana was really a materialistic individual. He had no confidence the Lord was genuine.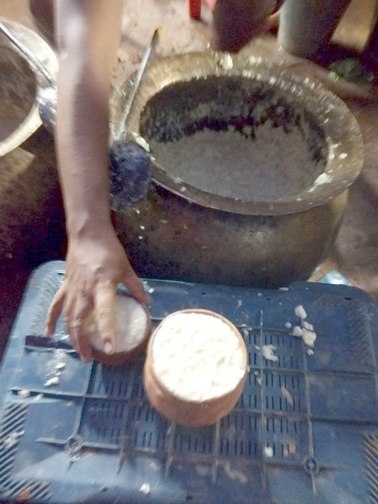 The Lord at that point told Sri Ketana, "O materialistic individual in the appearance of a brahmana, for your offense, the majority of your family and relatives will be annihilated with the exception of your child Madhu. I am satisfied with his effortlessness and commitment and along these lines I have eaten his contributions. Regardless of how rich, I am never satisfied with any offering in the event that it is made with no commitment and no confidence in Me."
As indicated by the neighborhood history, a couple of days after this episode an incredible tsunami originated from the adjacent sea and pulverized the majority of the brahmanas in Brahmagiri with the exception of Madhu. Right up 'til today the ministers of Lord Alarnath demonstrate a few places on the body of the god where He was singed by the hot sweet rice that fell on His body when the brahmana Sri Ketana got the Lord's arm. Srila Thakura Bhaktivinoda has composed: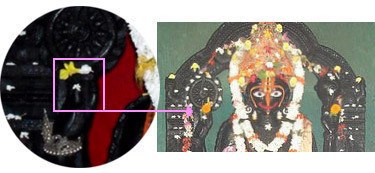 samudra-tira diya daksina jaite puri haite chaya-krosa dure
'alalanatha' gram. tathay 'alalanatha-caturbhuja-vasudeva-vigraha. vana-madhye ekti ksudra-grame tanhar mandir; tathay ati-utkrsta paramanna-bhoga haya. pandara ekhana-o usna-paramanner daga vigrahe dekhaiya thake.
"Going along the coast from Puri around six krosha, fourteen miles, is a town known as Alalanath. There one will locate the four-furnished god of Vasudeva known as Alalanath. The Lord's sanctuary is inside a timberland in this little town. The most magnificent sweet rice is offered to the divinity. Indeed, even these days the pujaris demonstrate the blemish on the divinity where He was scorched by hot sweet rice."
Connection of legendary devotee Chaitanya Mahaprabhu and Alarnath
Back in 1610 A.D Lord Chaitanya Mahaprabhu remained at Alarnath during anavasara time of Lord Jagannath . Anavasara is the two weeks time frame when Lord Jagannatha take rest in detachment from the remainder of the world in the wake of experiencing fever because of the yearly washing celebration (Snana Yatra). Master Chaitanya asserted that he imagined the presence of Lord Jagannath in Alarnath and spent a significant lot in revering the god here. It is accepted that the individuals who can not love Lord Jagannath during his stay in the wiped out chamber can get the gifts of the god on the off chance that they visit the Alarnath sanctuary. During this period the sanctuary servitors offered sacred porridge (rice pudding improved by jaggery), known as 'Kheer'.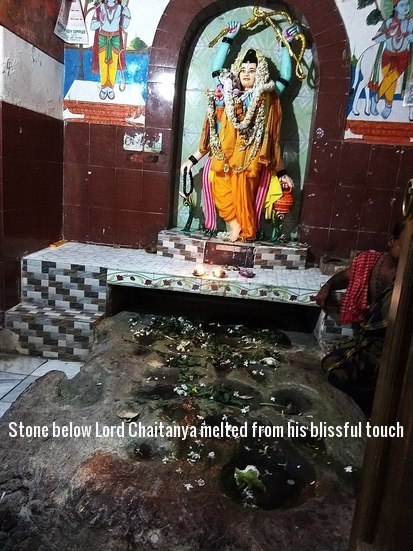 There is an excellent legend about the 'Kheer' bhog mentioned above.
In this sanctuary Lord Vishnu is loved as Lord Alarnath. The divinity has four arms. He holds chakra in his upper right hand, Lotus in his lower right hand, Conch in his upper left hand and club in his lower left hand. Master Vishnu's bearer bird, known as Garuda, bows at the feet of the divinity with his hands collapsed in petition position. The gods of Lord Krishna's rulers Rukmini and Satyabhama are additionally find inside the sanctuary. Divinity of Lord Chaitanya is likewise found inside the sanctuary. There is a stone piece before the god which bears impressions from Lord Chaitanya's body. At the point when Lord Chaitanya first lay in full regard before Lord Alarnath, the stone beneath Lord Chaitanya liquefied from His ecstatic touch. There is a lake behind the sanctuary where Chandan Yatra (Sandalwood Festival) is praised for 21 days consistently. This shows lot of love and affectiion between lord and his devotees.The legendary behind the Alarnaths are untold unless you see it in your own eyes with lot of love for Chakanayana.