By Diptimayee parida | bangalore August 24, 2017
Gayatri mantra is considered as the most important and sacred among all mantras in Hindu rituals. The material and spiritual benefits that it bestows are immense. It is believed one of the oldest mantra which has also been chronicled in Rigveda. Its origin is attributed to the creator of the universe Lord Brahma.
The matra consists of the prefix om bhur bhuvah suvah, which appears in Yajurveda and the verse 3.62.10 of Rigveda. It is also the name of the goddess who is considered the personification of this mantra. Chanting of Gayatri mantra helps to increase the spiritual growth and wisdom. Deva savitur is invoked in this mantra, so it is also called savitur. Savitur is associated with sun or Surya dev.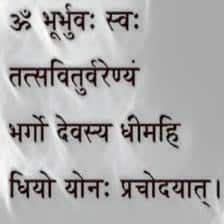 Meaning of the mantra- om- Brahma
Bhur-embodiment of vital spiritual energy
Bhuvah- eliminates the sufferings
Svah- embodies happiness
Tat- the Supreme Being Om
Savitur-bright and luminous like the sun
Varenyam-best or most exalted
Bhargo-destroyer of sins
Devasya-divine
Dhimahi-may imbibe
Dhiyo-intellect
Yo-who
Nah-our
Prachodayat-may inspire
It is a prayer to the divine the creator of universe, the essence of our life existence, who removes all our sorrows and grants happiness. The brilliance which may purify us and guide us on the right path.
Chanting of Gayatri mantra helps students to increase learning capacity and concentration. It helps as the mantra begins with Om that has a calming effect on the mind.
It is recommended that while chanting Gayatri mantra you should use a Rudraksha Mala. It is recommended to chant 3 rudraksha malas each in the morning and evening. Before recite this mantra the person should be in a comfortable seating position and must wear clean clothes.