By Diptimayee parida | bangalore August 9, 2017
Sri Chakra or Sri Yantra is a symbol of both universe and its cause. It is explained as a divine geometry and has worshiped in a special manner throughout India. It is worshiped by one and all for bestows wealth, health and above all salvation. It is the blueprint of all creation and holds supreme order and mathematics within its form. It is found in all states of India.
It is built of two sets of triangles. One set is composed four male or Shiva triangles called Shrikanthas denoting four aspects of consciousness power and the five female shakti triangles denote the five senses of knowledge, action and five gross forms of matter. These two set of triangles are signifies the union of Shiva and Shakti. As so united they make the figure within the eight lotus petals in the yantra. Outside of these there are sixteen other lotuses. There are some more lines is called as Bhupura.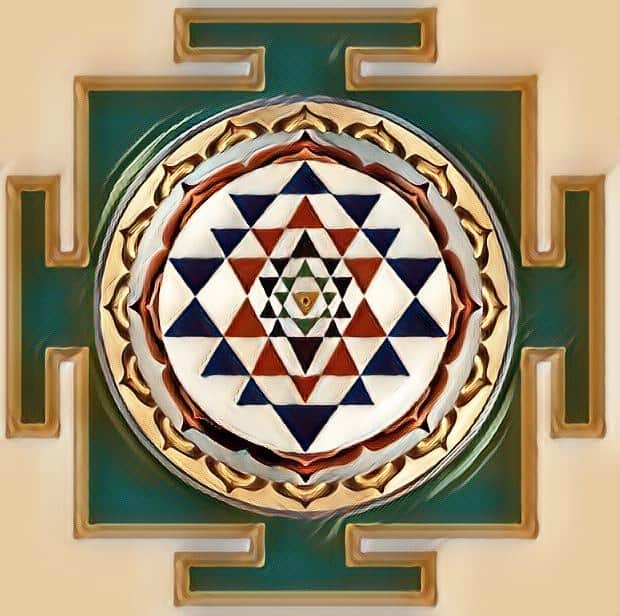 Keeping the yantra and not worshiping bring negative effects to the home. One should use sphatik Sri Yantra to get household benefits. For money a silver sri yantra is worshiped. It is very important to chant "om shrim hring shrim mahalaxmaye shrim hring shrim namah" for 108 times. The yantra will become siddh and getting magical benefit from this.
Sri Yantra has 9 types of energies in it as follows.
1- First chakra gets happiness, self confidence and wealth.
2- 2nd chakra gets sarva siddhi, you can achieve by daily meditation
3- 3rd chakra gets rid of illness
4- 4th chakra gets rid of all doshas
5- 5th chakra gets rid all your works
6- 6th chakra makes you more fortunate
7- 7th chakra gets rid all negativity from you
8- 8th chakra fulfills your wish
9- 9th chakra provides one with trilok mohan.