The sacred mango tree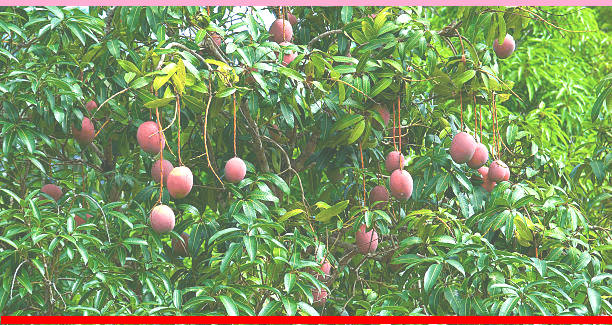 The mango tree is another sacred tree in Hindu religion. Each part of the tree are used in many rituals. In grihaprabesh puja string made from mango leaves is hung on the entrance. Mango leaves are kept with coconut in kalasha sthapana. Blossoms of mango tree are offered to Sarasvati on Basant Panchami. In Buddhism, it is believed that Lord Buddha created many mango trees in Shravasti, an Indian district from one seed.
In India the mango fruit is considered as the symbol of love and fertility. It is mentioned in many Hindu scriptures like puranas, Ramayana and Mahabharata. It is said that the mango leaves on a purna kalasha symbolizes life of the human. Hindus may also brush their teeth with mango twigs on holy days.
In ancient time, many Southeast Asian kings and nobles had their own mango groves with private cultivators being source of pride and social standing.